VILLE VAU
– wonder world for children
Ville Vau is home to Fairy Tale Land – a sensory world inspired by elements from Hans Christian Andersen's life, his passion for art, and for fairy tales.
It consists of a range of play oases and rooms each with their own theme, filled with exciting props and costumes to arrange and dress up in. There are more details on what you can find in Ville Vau on this page.
Please remember that you must book your ticket in advance to H.C. Andersen's House when you wish to visit Ville Vau – also if you have a season pass. Children under 18 y/o pays no entrance fee, but must be accompanied by a (paying) adult.
VILLE VAU SETS
THE SCENE…
FAIRY TALE LAND
Set your imagination free and discover how Fairy Tale Land in Ville Vau lets you play in new, fantastic ways. Scenery is provided here designed by the best scenographers to inspire play, absorption and creativity.
STUDIO
You can try your hand at the creative processes inspired by Hans Christian Andersen's own artistic methods in the Studio. Cut and paste to your heart's content!  
Or – you can grab a pencil or paintbrush and let them dance across the paper. The studio is open on fridays, weekends and school holidays – and offer free materials to support you creative surge.

WANT TO KNOW MORE ABOUT THE FAIRY TALE LAND?
The inhabitants of Fairy Tale Land include the witch, in whose cave you can practice spells, making magical potions and feeding her owls. Invite your family for tea in the tiny old house of the farmer and his wife, or rock the doll's pram, standing ready by the scented lavender .
In the palace is the jester's costume and a magnificent puppet theatre. The carriage stands ready behind the palace, along with the cape and top hat of the coachman. And armed with the soldier's musket, you can march smartly to a land far, far away.
Alongside the palace is the village. The barber lives here, where customers can get their beard's trimmed and wigs curled. At the post office, parcels and letters have to be stamped and taken off for delivery by the mail coach.
Try your hand at making your own pretzels at the bakery, and play shopkeepers to your heart's content. Fairy Tale Land even has its own pond, complete with a little boat from which you can fish. Dress up as swan and lord it over the nest made of reeds.
---
Practical
information
Hours of opening 2022
Ville Vau Fairy Tale Land
1. september – 30.december 2022
Tue-Fri: 13 – 17
Sat-Sun: 10 – 17
*Week 42: 15/10 – 23/10:
Daily, 10 – 17
*Christmas – school holidays:
Daily, 10 – 17
Closed: 24/12, 25/12, 31/12 + 1/1
Ville Vau Studio
1. september – 30.december 2022
Friday: 13 – 17
Sat-Sun: 10 – 17
*Week 42: 15/10 – 23/10:
Daily, 10 – 17
*Christmas – school holidays:
Daily, 10 – 17
---
No more than 4 children per adult in Ville Vau. If you have over 4 children with you, you will need more than one adult!

We recommend an age range of from 2 – 12 for Ville Vau, unless otherwise stated for individual activities.

Space is limited, and there can be queues at the entrance.

Access requires a ticket to H. C. Andersen's House. Advance booking required.
If you wish to visit Ville Vau as a larger group – as part of a birthday or similar, please contact us to arrange and book in advance.
Call +45 6551 4601

Season pass holders must also book tickets in advance.

Schools and daycare institutions must book via the school service.

Baby buggies are not allowed. But pushchairs are available at the main entrance.
Please show consideration. This facility is intended for children, and there has to be room for everyone.

Please leave shoes at the entrance to Ville Vau. You may like to bring warm socks and a bag if you want to take shoes with you.

Adults are only allowed free entry if their visit is for educational reasons.

It's possible to visit Ville Vau before the main exhibit in H.C. Andersen's House – but remember your time slot.
---
Remember that your ticket also gives access to Møntergården Museum and therefore also The Children's Backyard.
---
ART &
PERFORMANCE SCHOOL
If you love immersing yourself in creative processes, using your head and your hands and are always keen to learn new techniques, then you're going to love Ville Vau's Art School.
You'll be presented with a huge range of different materials, styles and techniques within the colourful world of art. Keiko Yada, our in-house artist, brings new and fresh inspiration to the studio for every season. There is a wide range of tuition, and we have the entire H.C. Andersen's House at our disposal for our work.
The Art School is housed in Ville Vau's bright new studio, with a view over the city. In surroundings designed to stimulate the senses, creativity and exploring your own ideas are given free rein.
No experience is required for Art School, only the desire to learn something new and be creative along with others. Tuition is conducted in Danish.
*This season has started. Try again this spring!
The Performance School is a poetic and creative laboratory, in which we put on fun theatrical exercises, tell stories without words, and hack Hans Christian's own stories. You'll be presented with various methods, and work in the zone between theatre and the visual arts. We take an active approach to each lesson and try the methods our ourselves in advance. As part of the experience, you will also perform live in the museum in front of visitors.

No experience is required for Performance School, only the desire to learn something new, use your body and be creative along with others. Tuition is conducted in Danish.

Age: from 10 y/o
Price: 640 dkkr.

ENROLMENT and questions:
Contact tutor, Nanna, at namad@odense.dk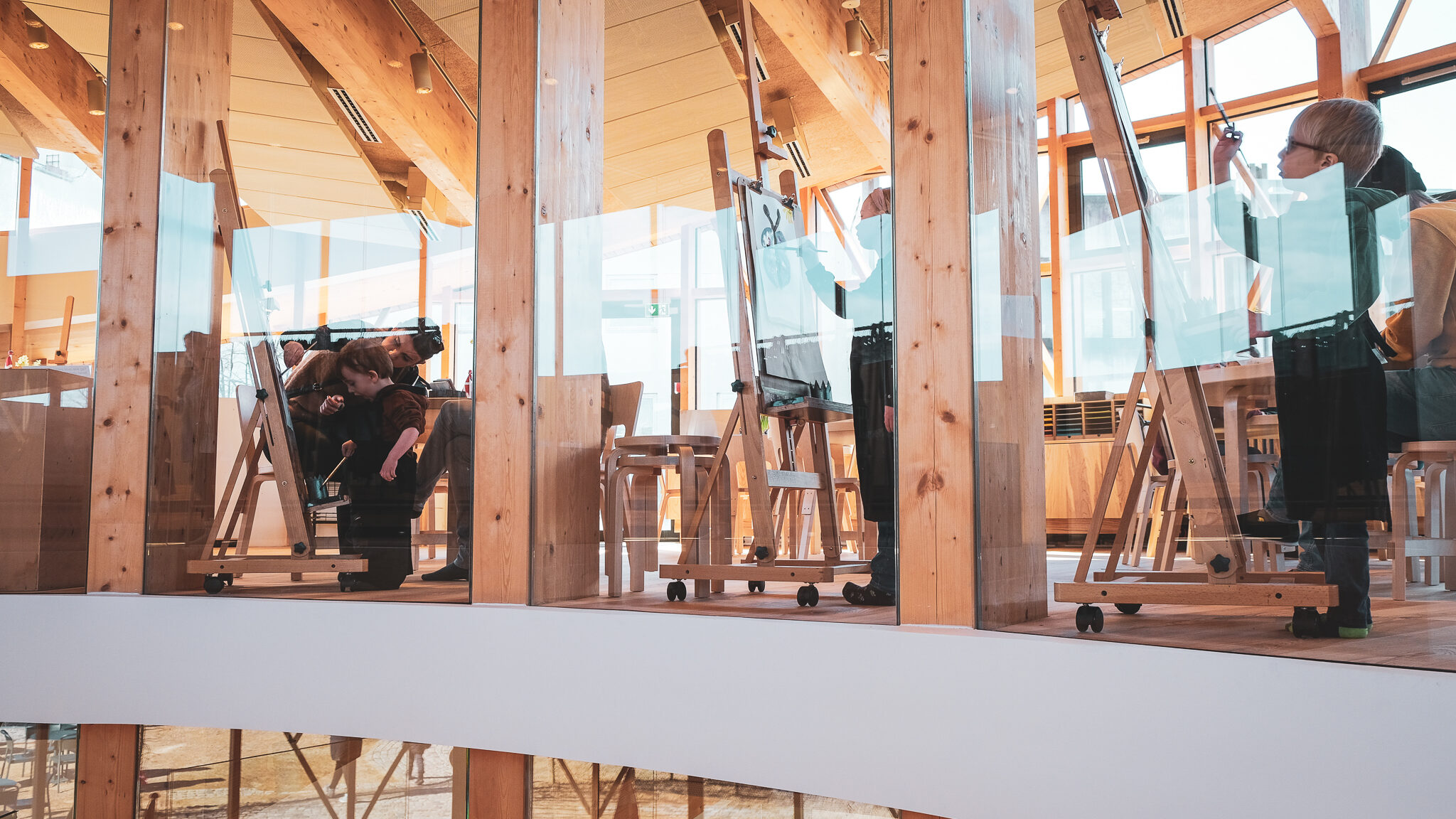 ---
UNIVERSE OF LEARNING
Hans Christian Andersen's fairy tale world presents unique opportunities for creative learning and collective acknowledgement. We want to know what children think, how they interpret and experience Hans Christian's tales. Hans Christian himself cultivated a wide range of perspectives and equivocal morales to his stories.
The Universe of Learning is a part of Hans Christian Andersen's House that is exclusively for schools and institutions, which can book an exciting experience for pupils of all ages. For more details, click here (in Danish only).
H.C. Andersen's House · H.C. Andersen Haven 1 ·
DK-5000. Odense C · +45 65 51 46 01 · museum@odense.dk