H.C. Andersen's House presents outstanding international artists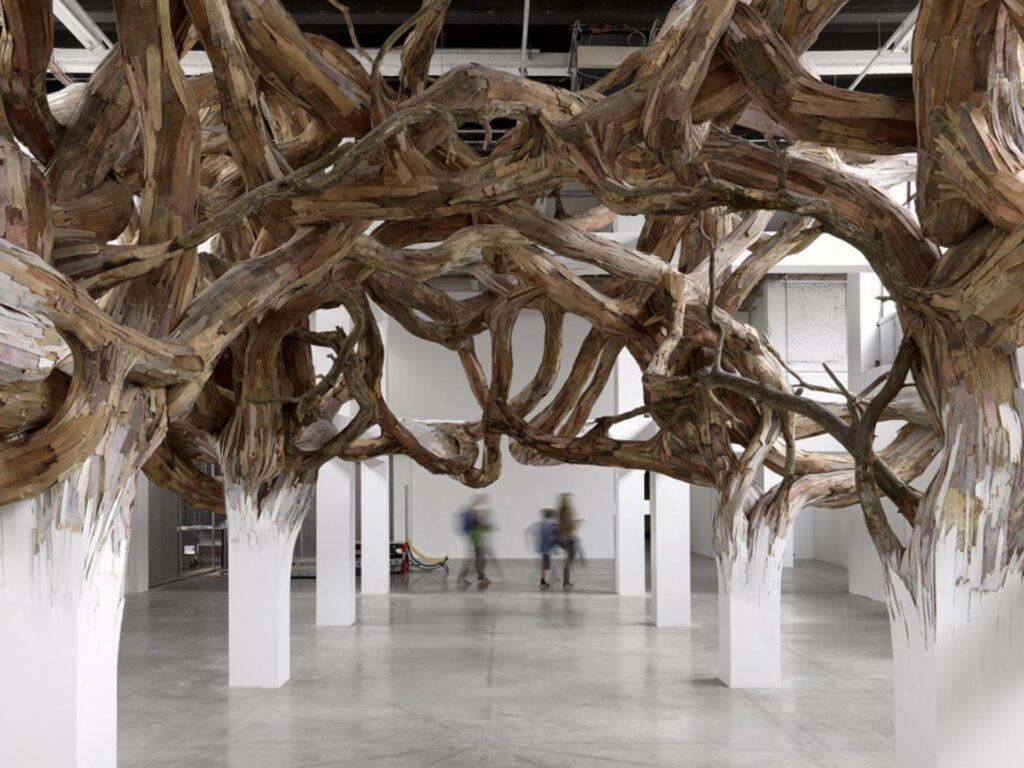 Twelve artists from all over the world are behind the exhibitions in the new H.C. Andersen's House, which opens its doors this summer. It will be a complete artistic experience in which architecture, art, design, light, sound and a stream of images will create new encounters between each visitor and Andersen's fairytales, which will melt together to form a coherent experience. The exhibitions are developed by H. C. Andersen's House and the various artists in collaboration with the British design agency Event Communications.
Today, H.C. Andersen's House can reveal artistic content of outstanding international quality. Together, twelve recognized artists from both Denmark and the rest of the world have created an exhibition, which spatializes the experience of Andersen's literary universe and offers new perspectives on one of the most treasured and creative thinkers in world history. The common denominator for all the contributing artists – which include names such as Brazilian installation artist Henrique Oliveira, British puppet-maker Andy Gent and Danish scriptwriter Kim Fupz Aakeson – is that their art in one way or another is associated with the art of Hans Christian Andersen:
"We have identified artists that correspond with Andersen's universe and its core values. In that sense, the ambition has been to create art, which exists on its own terms, while simultaneously fitting into the overall project: Creating an H.C. Andersen's House in which landscape, architecture, exhibitions, design and art all melt together to form a coherent experience," explains Henrik Lübker, Creative Director of H.C. Andersen's House.
Unique stories told through music and sound
Among others, the audio experiences within the museum are created by the award-winning Danish author Kim Fupz Aakeson and the American author Daniel Handler, who is better known under his pen name Lemony Snicket, whose books have sold more than 70 million copies and served as the foundation of both a Netflix series and a Hollywood movie. Both authors belong to a small and exclusive group of authors who – just like H.C. Andersen – are able to create stories that have equal appeal among children and adults.
In terms of audio, visitors will also get to experience four original works by the award-winning Danish composer Louise Alenius, who interprets Andersen's The Nightingale, The Snow Queen, The Ugly Duckling and The Little Mermaid. Louise Alenius is known for her unusual approach to musical storytelling: She hacks the formats and challenges her audience – and exactly this interplay between the music and what takes place beyond the audible scope is also a distinctive feature of her works that will feature in H.C. Andersen's House.
Art installations made out of paper and recycled wood
Among the physical installations inside the museum, visitors will encounter a giant installation created by Danish Veronica Hodges, which is inspired by the swallow in the fairytale about Thumbelina. Previously, Veronica Hodges has created the popular and enchanting paper installation Cherish in Copenhagen's Marble Church in 2018, which featured 15,000 cherry flowers made out of paper, all floating from the ceiling inside the church.
Besides the paper-based art, the physical exhibition will also include Brazilian installation artist Henrique Oliveira's massive tree installation, which draws inspiration from the fairytale The Tinder-Box. Henrique Oliveira is internationally known for his three-dimensional works made out of recycled wood, and he has gained notoriety particularly because of art installations such as Baitogogo, a kind of Gordian knot, which was exhibited at Palais de Tokyo in Paris, and the enormous labyrinth-like wood installation Transarquitetonica, which was exhibited at MAC in Sao Paulo.
To make Andersen's stories come alive, the museum has joined forces with British puppet-maker Andy Gent, who has spent more than 25 years making puppets specifically for stop motion films. For instance, he has created puppets for Tim Burton's stop motion film Corpse Bride, and he is also the person behind the more than 1,000 dog puppets made for Wes Anderson's Isle of Dogs. As part of the exhibition, visitors will experience Andy Gent's puppets in the following fairytales: The Steadfast Tin Soldier, The Little Mermaid, The Snow Queen and The Little Match Girl.
Poetic illustrations and animations
As a visual part of the exhibition, Andersen's fairytales will also be infused with sensuous illustrations and animations. These will be made by, among others, the Spanish illustrator Sandra Rilova, whose subtle and poetic illustrations create an interplay with the concrete and the symbolic, as they tell multiple stories in one single image, while the award-winning artist and short film director Timothy David Orme will invite the audience to join him on an all-encompassing and animated film journey into the imaginative mind of H.C. Andersen.
As such, the museum will present a complete artistic experience with an abundance of dimensions, which allows the audience to expect that everything is familiar while nothing is the way it used to be.
"The audience can expect to go on a journey and enter into a world in which humor and play are at least as important as answers and truth. The audience can expect to experience a world in which you step into surrealistic game shows or get thrown around by the elements as if you were a tin soldier. A world where you are at the bottom of the ocean looking up, looking out, at a different world as a little mermaid or endure the same terrible things the ugly duckling had to. The audience can expect a world that is for all ages and times. For families and the individual," Henrik Lübker elaborates.
Artists represented in H.C. Andersen's house:
Kim Fupz Aakeson (DK), Louise Alenius (DK), Veronica Hodges (DK), Daniel Handler (US), Henrique Oliveira (BR), Sandra Rilova (ES), Lewis Gibson (UK), Timothy David Orme (US), Noah Harris (UK), Andy Gent (UK), Simon McBurney (UK), George Shelbourn (UK) Learn much more about the artists.
H.C. Andersen's House opens in the summer of 2021. Follow the genesis on Instagram @nyhcandersenshus and Facebook via @hcandersenmuseum
Press contact
Anja Linnet, Head of Communications // anja@have.dk // (+45) 22 65 53 48
Johannes Mandal, Advisor // johannes@have.dk // (+45) 22 28 7777
Amalie Hermansen, Junior Advisor // amalie@have.dk // (+45) 21 79 33 82
—
About H.C. Andersen's House
H.C. Andersen's House is designed by Japanese star architect Kengo Kuma and his team, who are also behind the new Olympic stadium in Tokyo. As part of the design process, the esteemed architect has found inspiration in Andersen's fairytale The Tinder-Box, in which a tree reveals an underground world, which magically reveals new perspectives right in front of the beholder.
The museum site covers an area of 5,600 square meters, two thirds of which are underground and connects to an enchanting children's universe. The building intertwines with a surrounding magical garden designed by landscape architects MASU-Planning. On top of that, the museum will consist of a wide array of state-of-the-art technologies and approaches to set design, which will all add to the experience of Andersen's magical universe coming to life.
Support from foundations
The new museum is one of Denmark's largest and most ambitious museum projects in recent years, and it has been made possible through a substantial donation from The A.P. Møller Foundation as well as contributions from Nordea-fonden, The Augustinus Foundation, Knud Højgaards Fond and the City of Odense.

COVID-19 – this is how we ensure safety
We are closely monitoring the developments surrounding COVID-19 and will adhere to all guidelines and restrictions put forth by the Danish Health Authority, when the museum opens in the summer of 2021. Besides statutory demands regarding masks, sanitizer dispensers, social distancing, clear signage, extra cleaning and a high degree of hygiene, H.C. Andersen's House will also put a series of its own efforts into practice to ensure a comfortable and safe visit, including online booking of tickets, limitation on simultaneous guests and so forth. Keep an eye out for updates on the website, which will continuously be updated according to the current guidelines and the museum's own safety initiatives.
H.C. Andersen's House · H.C. Andersen Haven 1 ·
DK-5000. Odense C · +45 65 51 46 01 · museum@odense.dk